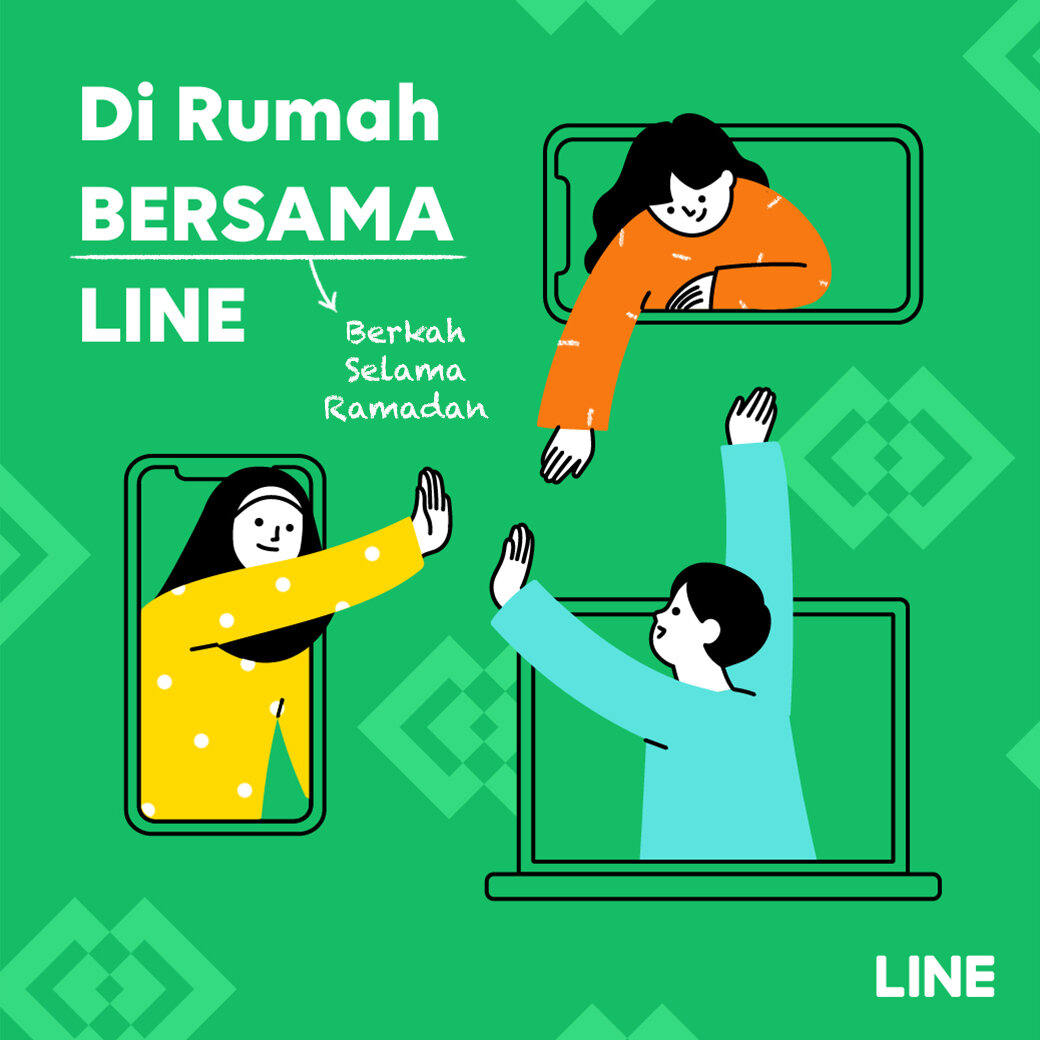 LINE Indonesia is providing informative
and educational Ramadan content for our users as they observe Ramadan at home
this year


Indonesians are
observing Ramadan differently this year. Due to the COVID-19 pandemic, people
everywhere are avoiding large groups and communal activities, as they seek to
"flatten the curve" and slow the spread of the disease. This is forcing Indonesians
to change how they engage in many of the traditions associated with the holy
month of Ramadan, the largest and the longest religious festivity in the
country. People are experiencing Ramadan at home, and LINE Indonesia is doing
all it can to help them by offering special Ramadan programs and features.
LINE Ramadan Official Account
The first
feature for our users' Ramadan at Home journey is the LINE Ramadan Official
Account. Launched back in 2017, LINE Ramadan Official Account offers content
and activities such as Daily Quiz (Kuis
Rejeki BERSAMA), Prayer Schedule, Prayer Reminder, and Daily Kultum.

Daily Quiz (Kuis Rejeki BERSAMA)

provides the Daily Quiz activity to accompany users'
Ngabuburit
period. Ngabuburit is the time before Iftar, usually
around 3:30–5:30pm. Daily Quiz can be accessed everyday from 3pm to 6pm and
consists of seven questions about Ramadan. Users with the highest points will
have the opportunity to win a Daily Prize. Daily points will be accumulated at
the end of Ramadan month and users with the most points will get a Grand Prize.
Prayer Schedule, Prayer Reminder, and Daily Kultum
In addition
to Daily Quiz, LINE Ramadan also provides daily Islamic content that can enrich
users' Ramadan journey. This includes Prayer Reminder, Prayer Schedule, and
Daily Kultum. Prayer Reminder and Prayer schedule will be sent automatically
via notifications once a user follows the LINE Ramadan Official Account. Prayer
Reminder and Schedule is also customised based on users' location and region.
Daily Kultum consists of Daily Ramadan Prayers and Daily Ramadan Tips.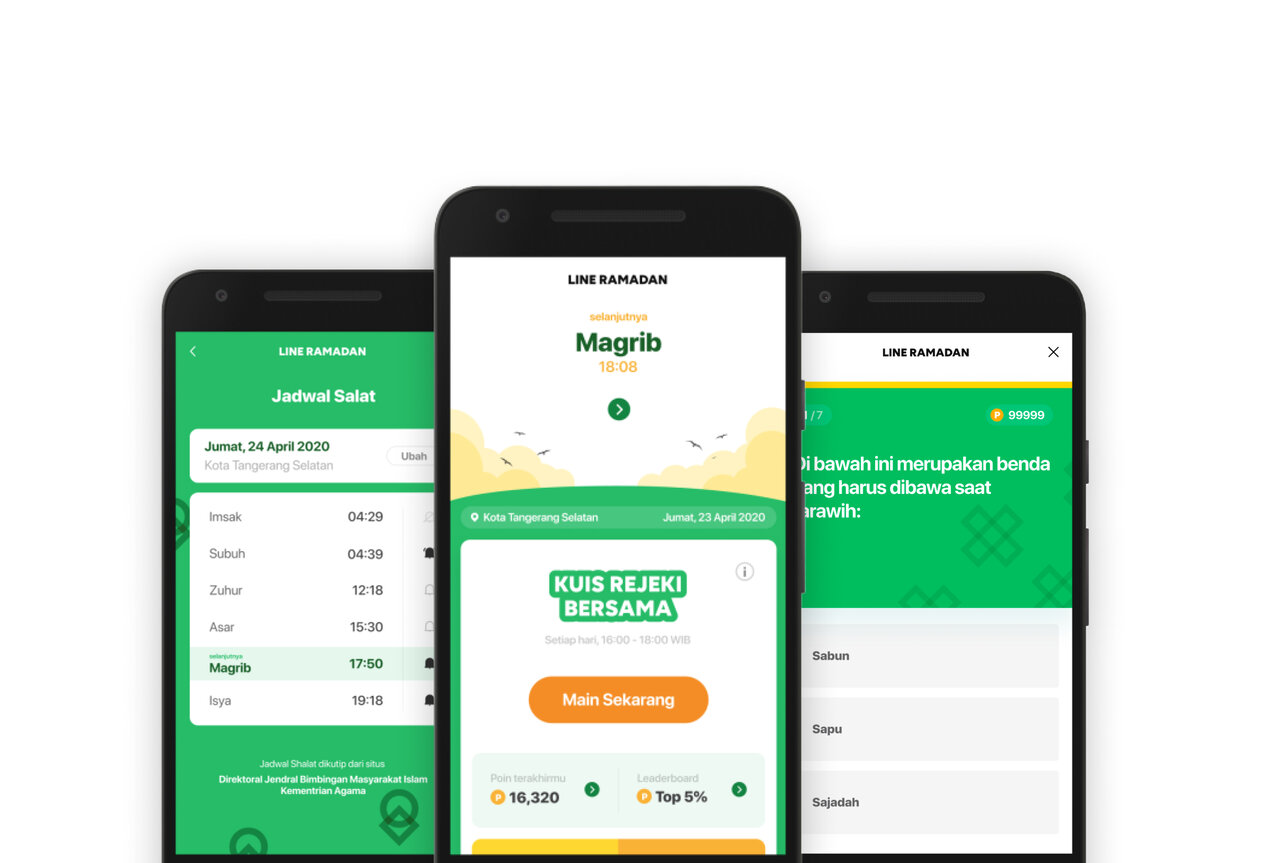 LINE users
who want to participate in all of the above activities can add an official LINE
Ramadan account through this link
https://lin.ee/ldGOA1v
.
They can also find the LINE Ramadan Official Account in the
More Tab
section on LINE application. For
both iOS and Android, the More Tab is the three-dot icon located at the bottom
right of the application.

Ramadan Tab on TODAY
LINE TODAY
also provides a dedicated Ramadan Tab which can be accessed through
https://today.line.me/ID/pc/main/100676
.
The Ramadan Tab consists of several sections, including Ramadan, Ramadan 2020,
Ask Ustaz, Today's Recipe, and Today's Prayer.

Under the
Ramadan section, users can find a collection of news articles related to
Ramadan. The Ramadan 2020 section consists of Ramadan tips and tricks. Under
the Ask Ustaz section, users can get answers to frequently asked questions
about Ramadan. Today's Prayer consists of a collection of prayers that can
guide users throughout Ramadan.

Stay Connected with Families and Friends through LINE Video Call
LINE also
strives to close the distance between families and friends during this #StayAtHome
period. Ramadan is highly associated with events that emphasize gathering and
togetherness. This year, however, Indonesians are unable to meet in person with
their friends and many of the people in their families. With LINE Video Call,
LINE aims to help users to stay connected and strengthen their togetherness
throughout Ramadan, despite the need to maintain physical distance. Able to
connect up to 200 people, LINE Video Call is also equipped with various filters
that can enhance the video call experience. In addition, LINE Video Call can be
used via both cellphone and PC so that it can facilitate LINE users through
multiple devices.


Hopefully,
these Ramadan contents and features will help make for a memorable Ramadan-at-home
experience for our users. We look forward to developing more campaigns and
programs in the future that will enhance our users' experiences.